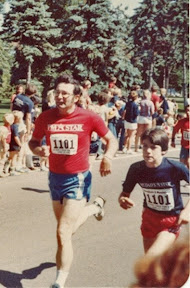 I am starting to recover some consistency with my running again. I have continued with my zen approach of not wearing a watch and not logging my miles. I even sold my Garmin 310xt watch. Right now the main focus of my running fitness shaping is the
Great River Ragnar Relay
. I am running again with an Armstrong Alumni team. This time we are taking a more competitive approach, thus I would like to perform well and make a solid contribution for the team. I am not running any extra legs this time, which will help me give 100% during each leg. Last year it was kind of a bummer to be neck and neck with a runner who was going 6 miles when I was going 11 (it will be fun to drop the hammer this year).
My heart is for re-creational running, and preferably ultra distances. For this I really enjoy a run-walk mix using a freestyle approach versus the Galloway approach of setting a beeping interval timer. I have been enjoying some of these type of outings with my wife. The hope is to do a half-marathon with her this fall.
I have a couple full marathons on the schedule for the fall. At this point I am envisioning doing those events with a freestyle run-walk mix approach.
I am really wanting to get another 100 mile event on the calendar. I was hoping for the Umstead 100 next spring, but have encountered a scheduling conflict (hopefully I can make that one happen in 2013). If possible, I am starting to hope for a go at the Rocky Raccoon early in 2012. That event has been stirring in my heart for over 2 years.
- Posted using BlogPress from my iPad